From Apple watches to Venmo, mobile payments offer a combination of convenience, safety, and security that's unrivaled by most other payment methods. Some customers and business owners view mobile payment technology as intimidating because it's so different from more traditional types of payments, such as cash and credit cards. However, making and accepting mobile payments on stationary or mobile POS systems is easier than many people realize.
Customers make mobile payments using devices, such as smartphones, tablets, and smartwatches, equipped with special software. There are currently more than 310 million smartphone users in the United States, and that number is expected to grow by another 20 million users through 2028. With such an enormous pool of potential mobile payment customers at stake, small and medium-sized businesses (SMBs) have the potential to expand their customer base, cut costs, and provide a more seamless checkout experience.
Companies that haven't yet put the technology in place to accept payments online or in person from mobile apps, mobile wallets, and wearable devices may be placing themselves at a disadvantage. Learning how each payment type works and what's required for a business to accept it, is a good first step toward becoming a more mobile-friendly business.
The importance of mobile payments for SMBs
Accepting payments from mobile devices is essential for small businesses that hope to remain competitive. Customers increasingly prefer the convenience and simplicity of mobile payments for both in-person and online purchases, and they may take their business elsewhere if they discover they can't make purchases with their mobile devices.
Mobile payments for in-store transactions
In the past, a shopper in a brick-and-mortar store entered a checkout line, fished out a card or cash, and handed it to a cashier, who would complete the payment and return the change or card to the customer. Most modern checkout lines look much different. Rather than digging through their purses or wallets, many customers hold their phones or watches up to a terminal and quickly complete their transactions. This shift in behavior is the result of a variety of factors.
The decreasing use of cash
While cards remain a popular payment method, the use of cash has steadily dwindled over the past several decades and at an increasingly fast pace in recent years. According to the 2023 Global Payments Report, cash was the second most used POS payment method globally in 2019. It has now fallen to fourth place with only 18% of all POS value of transactions. Experts predict that this decline will continue for the foreseeable future.
The preference for contactless payments
Mobile payment technology now occupies much of the space previously held by cash. Proximity mobile payments, where customers hold a device up to a near-field communication (NFC) terminal, are especially popular. Growth in this area was explosive during the early stages COVID-19 pandemic, as customers looked for safer and more hygienic ways to make in-store purchases, and usage rates have remained high ever since. According to a report from Insider Intelligence, per-user proximity mobile spending will continue to grow over the next several years, and it will nearly double to reach $7,827 in 2026.
Consumer reliance on smartphones
The growth of mobile payments has also been driven by consumers' tendency to take their phones wherever they go. A 2023 survey found that 75% of Americans feel uneasy leaving their phones at home, meaning that the vast majority of people typically carry their phones when they leave the house to go to work, school, or the store. While not all of these individuals use their phones specifically as a method of payment, a growing number are taking advantage of the ability to pay for items and services with a device that they always have on hand.
Mobile payments for eCommerce
In addition to in-store transactions, mobile payments have also made their mark on eCommerce payment processing. Mobile wallets accounted for approximately half of global eCommerce transactions in 2022, and they're projected to increase to more than 54% in 2026.
This is no surprise given the popularity of mobile shopping. A survey from Pew Research Center found that 76% of Americans make purchases on their smartphones, and that number is even higher depending on the age range. For example, 92% of consumers between the ages of 30 and 49 shop on their phones.
Mobile payments offer a high level of convenience and accessibility when customers shop on their devices. No matter where they are, they can search for products, add them to their shopping carts, and pay for them using their phones or tablets. This is especially beneficial for customers who don't have immediate access to their credit cards because they're traveling or working.
The role of apps in mobile payments
Mobile applications, commonly referred to as apps, are software applications that are designed for use on devices such as smartphones and tablets. Apps serve a wide variety of purposes, from entertainment to shopping to banking, but they're all intended to enhance customers' everyday lives. Some mobile apps allow customers to pay for purchases in physical stores or on eCommerce sites, essentially negating the need to keep up with a credit or debit card.
The basics of mobile payment apps
Mobile payment apps are appealing because they're generally easy to use and make the shopping process faster. Although there are many varieties available on the market, the most popular include:
Apple Pay
PayPal
Cash App
Venmo
Zelle
Google Pay
Samsung Pay
Many of these apps connect directly with customers' bank accounts. After downloading them, customers enter their banking details, such as their account number and security code, and the app stores them for later use. When the customer makes a purchase, the app deducts the necessary funds from the associated account. Other mobile payment apps rely on funds that are directly deposited into the app. Customers add funds to their accounts and their transactions draw from the available balance.
How SMBs accept mobile app payments
For most businesses, very few changes or upgrades are required to allow customers to make payments with mobile apps. Although they operate separately from a business's POS system, many payment apps are designed to connect to card readers and POS software. There are several technologies that SMBs can use to accept payments, including:
NFC: Mobile payment apps known as mobile wallets use NFC, the same technology that allows vendors to accept contactless payments from credit and debit cards. Companies that already have POS terminals with NFC technology don't have to make any changes to their systems, and businesses that don't have NFC-enabled card readers can add them or create mobile POS systems with a mobile card reader for a relatively low cost.
Peer-to-peer payments: Businesses can provide customers with printed or digital Quick Response (QR) codes or their account usernames to accept peer-to-peer mobile app payments. Customers use their devices to scan the codes and make payments using the associated app.
eCommerce sites: Businesses can allow customers to pay for their online transactions with mobile payment apps by deploying the best eCommerce solutions. Many app providers offer integration options, and others allow businesses to direct customers to an external site and accept payments online.
In most cases, accepting mobile app payments doesn't involve a lot of effort or expense on the part of the customer or business. Payment apps are generally free to download, and the fees associated with accepting mobile app payments are similar to those required to process credit card payments. Mobile app companies typically charge processing fees ranging from 2% to 4%. They may also charge additional fees for fraud-protection features, international payments, or key-in transactions.
The advantages of accepting mobile app payments
When businesses choose to allow customers to pay for their purchases with mobile apps, they are effectively acknowledging the importance of consumer preferences. Because mobile app payments have become so common, some potential customers may view a business in a negative light if they fail to offer that particular payment option.
Payments from mobile apps also offer a number of other important benefits, such as:
Faster checkout speeds: When customers don't have to search for their credit cards or count their cash, they move through checkout lines more quickly. Accepting mobile payments with QR codes also allows customers to make payments without standing in a central checkout line.
Instant fund availability: When customers make payments with credit cards, debit cards, or checks, businesses may have to wait days or weeks for the funds to be released. Payments from mobile apps are often released instantly, improving the business's cash flow.
Enhanced security: Mobile app payments are encrypted and tokenized to protect customers' personal and financial information and reduce the risk of fraud. This lowers the likelihood that businesses will have to pay chargeback fees.
Data insights: Businesses can gain valuable information about customers through real-time data made available by mobile app payments. They can track where their revenue is coming from and monitor product sales and inventory.
For most SMBs, there are few if any downsides to accepting mobile app payments. While they may involve some initial setup and upgrades, their advantages far outweigh these minor inconveniences.
Businesses that are well-suited to mobile app payments
Unlike some other payment technologies, mobile app payments have almost universal applications for SMBs. Retailers, restaurants, eCommerce businesses, and mobile businesses can all benefit from this type of payment technology.
For example, a restaurant might include QR codes on place mats and allow customers to make payments with PayPal or Venmo from their tables. Grocery stores, on the other hand, might accept payments from mobile wallets such as Apple Pay at the register with an NFC-enabled POS terminal.
Where mobile payment apps are headed
Mobile payment apps already serve their primary function very effectively, empowering customers and businesses to make fast, efficient purchases. To gain an edge in an increasingly crowded market, payment app providers are likely to look for new ways to enhance their offerings.
More mobile payment apps may expand to include different types of currencies, such as cryptocurrencies, and allow customers to use them for in-store and online purchases. Similarly, apps may offer advanced features so that customers can store their ID cards or passports along with their payment details, entirely eliminating the need to carry a physical wallet.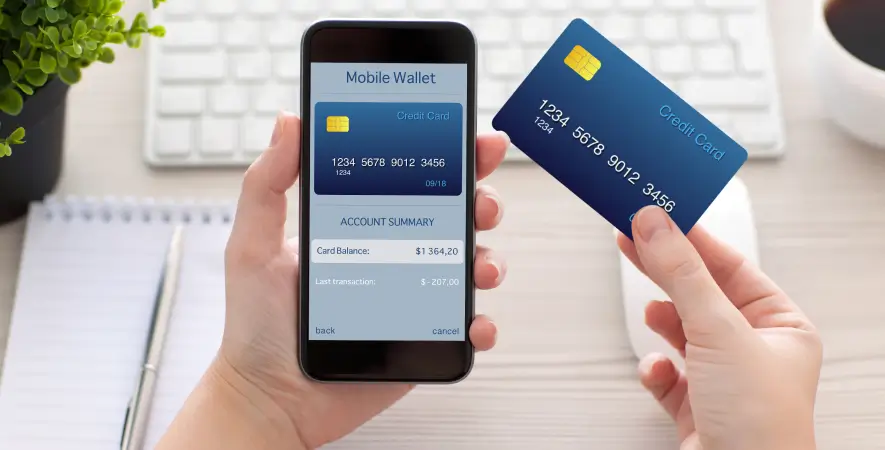 The impact of mobile wallets
Mobile wallets are special types of mobile payment apps that allow customers to store information from their credit cards, event tickets, and other important documents. The most effective mobile wallets make it possible for customers to use their phones to make payments for in-person purchases through card readers.
How mobile wallets work
Customers can add multiple credit cards and bank accounts to their mobile wallets simply by signing up for an account and downloading the app. The set-up process is equally simple for businesses, who can create a business account in a matter of minutes.
Mobile wallet payments are compatible with NFC-enabled POS terminals. To make a payment, customers merely have to hold their phones in front of the reader, just as they would a contactless credit or debit card. Online businesses can also accept mobile wallet payments by including the option on their checkout pages.
Businesses in every industry can find value if they accept digital wallet payments, but some types of SMBs may find them more useful than others. Grocery stores, in particular, have seen an uptick in mobile wallet payments in recent years. According to a 2022 report, the share of in-store checkouts made with mobile wallets is around 8%, with the majority of those used for grocery purchases.
The biggest names in mobile wallets
Although there are many mobile wallets and payment apps available, not all of them are compatible with contactless card readers. In the United States, Apple Pay, Google Pay, and Samsung Pay are rather distinct in this regard.
These mobile wallets are available for use on smartphones, smartwatches, and tablets, and they are among the most commonly used mobile payment methods in use today, with no signs of slowing down. The use of apps such as Google Pay and Apple Pay is expected to double in North America from 2020 to 2025.
Apple Pay, Google Pay, and Samsung Pay have similar designs and functions, but there are important distinctions between how they operate and who uses them. Understanding these differences is an important step toward deciding whether to accept one, two, or all three of them as a method of payment.
Apple Pay
Initially released in 2014 with the iPhone 6, Apple Pay is the current juggernaut of mobile wallets. Although it's only available for use on Apple devices, its popularity has eclipsed that of Samsung Pay and Google Pay for several years. There are currently more than 500 million Apple Pay users worldwide, and these users account for a large chunk of the number of mobile wallet payments. For example, in the second half of 2022, consumers used Apple Pay for 48% of in-store mobile wallet transactions.
The meteoric rise of Apple Pay parallels the increasing use of Apple phones. In 2022, people around the globe began using iPhones more than Android phones for the first time. As the smartphone market becomes more saturated with iPhones, the number of Apple Pay users will also increase.
Experts project that the number of Apple Pay users who use Apple Pay at least once a month will reach 67 million by 2026, representing approximately 23% of the United States population. Thus, SMBs that opt not to accept Apple Pay may miss out on a large segment of prospective customers. Those that want to accept Apple Pay can do so by using a stationary or mobile NFC-enabled card reader or their own Apple devices.
Google Pay
While Google only has around 2% of the North American mobile market share, Google Pay is available on all Android and Apple phones, making it an important contender in the mobile wallet marketplace. It began as Google Wallet, a peer-to-peer payment system that merged with Android Pay and was rebranded as Google Pay in 2018.
The current version of Google Pay allows customers to make money transfers and payments at participating businesses. However, due to restrictions put in place by Apple, iPhone users can't use the Google Play app with NFC readers and just instead turn to Apple Pay.
As of 2022, Google Pay was available in 40 countries with more than 150 million users. In 2022, it accounted for around 17% of mobile wallet check-outs in stores, a much smaller share than Apple Pay but a significant improvement over the prior year's rate of around 10%. Because the sign-up process for Google Pay is so simple and businesses receive rewards for accepting payments through its system, it's worthwhile for every SMB to consider accepting payments through this mobile wallet.
Samsung Pay
Samsung Pay has one of the longest track records among all of the mobile wallets available today. It became available to consumers in 2015, approximately one year after the launch of Apple Pay. However, it hasn't established the same level of customer loyalty as its primary competitor.
A survey by Statista found that one out of ten respondents used Samsung Pay for an in-store purchase between April 2022 and March 2023. It also indicated that the adoption of Samsung Pay decreased from 2022 to 2023, a period during which the use of other mobile payment apps was going up or holding steady. Although it reached 14.7 million users in the United States in 2020, the wallet is expected to achieve limited growth through 2024. This decline may be partly in response to Samsung's decision to phase out its rewards program for Samsung Pay in 2021.
In addition to its now-abandoned rewards system, Samsung Pay has sought other ways to set itself apart from the competition. Most important is its compatibility with a wider array of POS terminals. While most mobile wallets only work with NFC-enabled card readers, Samsung Pay also functions with readers designed for older magnetic secure transmission (MST) and EMV-enabled chip cards. A Samsung device can wirelessly transmit magnetic waves to a standard card reader, allowing customers to make purchases with their phones even if the business has not upgraded to a more recent POS terminal.
Despite the difficulties Samsung Pay has faced in the battle against Apple Pay, SMBs shouldn't overlook its importance as a payment method. Samsung phones are among the most popular in the world, and the company had a global smartphone market share of 22.5% in the first quarter of 2023. While Samsung Pay may not be as popular as Apple Pay, there are still plenty of customers who prefer to make mobile payments with their Samsung phones.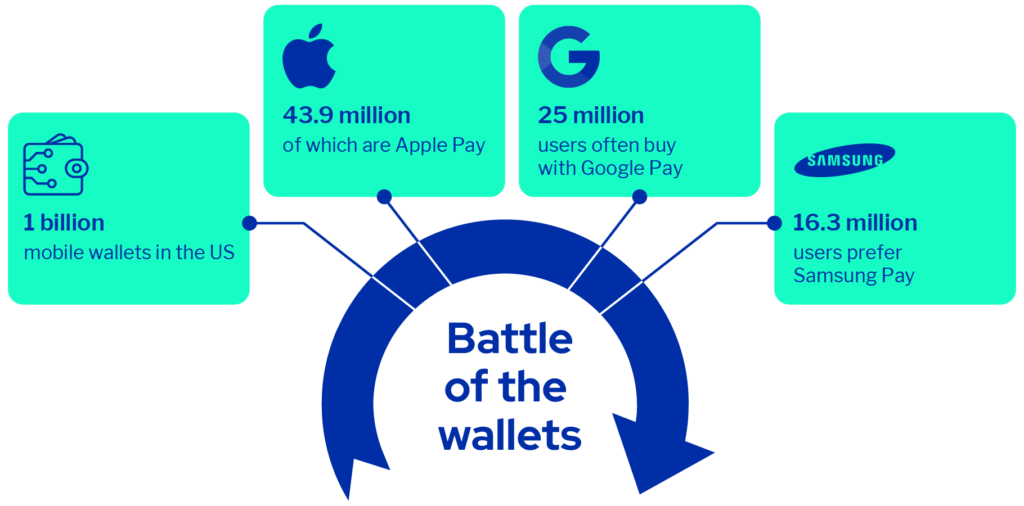 The power of wearable payments
Wearable payment technology takes convenience to another level by allowing customers to use a wearable device, such as a smartwatch, to complete their transactions. SMBs that allow other forms of mobile payments are most likely already equipped to accept wearable payments and should be aware of how this payment method can help grow their businesses.
The rapid evolution of wearable payment devices
Wearable payment technology has existed for less than two decades, placing it among the most recent payment options available. One of the first wearable payment devices in the world was the PayBand, which was released by Barclaycard in the United Kingdom in 2012.
A few short years later, the company built on the concept of wearable payment technology with the launch of the first contactless jacket in 2015. This was the same year that Apple unveiled the Apple Watch, which would later become one of the most popular wearable payment devices on the market.
Since the early and mid-2010s, many companies have released wearable payment devices in a variety of forms, including:
Bracelets
Watches
Rings
Keyrings
Wristbands
Jackets and coats
Smartwatches and fitness bands, however, have been the overwhelming favorite of consumers because they offer multiple functionalities. In addition to paying for their purchases, customers can track their steps, monitor their health, listen to music, and make calls.

In 2020, a survey by Pew Research Center found that around 21% of Americans wear a smartwatch or fitness tracker. From the perspective of a business owner, the growing adoption of wearable devices presents an opportunity to offer customers a greater level of convenience and efficiency.
What SMBs need to allow wearable payments
The technology required to accept and process wearable device payments is minimal, and most businesses already have the hardware in place. Wearable payments generally rely on card readers that are compatible with contactless or mobile app payments.
A stationary terminal with an NFC card reader is a good solution for a larger brick-and-mortar business with a higher customer volume. Service-based, mobile, or smaller businesses might opt for a mobile or portable card reader that connects to a device such as a tablet or smartphone. These devices are usually low-cost, with most prices falling between $50 and $150.
The benefits of wearable payments
Wearable payments are advantageous for customers and business owners alike. Their most positive features include:
Superior convenience: Wearable payments make it possible for customers to shop without carrying anything with them.
Speedy checkouts: Payments with wearable devices are extremely fast because customers only have to hold their devices in front of an NFC reader for a few moments to complete the transaction, allowing checkout lines to move quickly.
Reasonable fees: Businesses generally pay the same processing fees for wearable payments as they do for credit card transactions.
Strong security: Unlike physical wallets, wearable payment devices can be locked to protect sensitive information, and data from the devices is encrypted during processing.
Perhaps the greatest aspect of wearable payments is that they function using the same technology as mobile wallet payments made on smartphones. Businesses that have already decided to accept payments from Apple Pay, Samsung Pay, or Google Pay are also capable of accepting wearable payments without making any additional changes to their systems.
The best locations for wearable payments
Accepting wearable payments is an asset to any business with an NFC-enabled card reader, but it may be most important for SMBs that operate in spaces where time is of the essence or customers tend to avoid carrying bulky purses, bags, or wallets.
For example, a coffee shop that makes sales to a lot of early-morning runners can appeal to their customers by allowing them to make payments with their smartwatches or fitness bands. Many people already wear these types of devices when exercising. Similarly, food trucks or vendors at markets and festivals can make the buying process easier for customers who have their hands full or don't want to risk carrying and losing their wallets at the event.
Future growth for wearable payments
Because wearable payment devices have only been widely available to the public for a little over a decade, there are still many more opportunities to explore this area of technology. Potential advancements in the future include new biometric security measures that would better protect customers from theft and fraud. For example, rather than requiring customers to enter a passcode to unlock their watches, the devices might use heart rhythm monitors to verify the owner's identity.
Additionally, one of the most common concerns about wearable payment devices is their limited battery life. If a customer arrives in the checkout line and discovers that their smartwatch or ring has run out of battery power, they may have to abandon their purchase. However, each new generation of technology strives to improve the battery life of these devices, and experts project that smartwatches with up to 90 hours of battery life may be well on their way.
Regardless of what upgrades lie ahead, the financial future of wearable payment technology looks bright. In 2022, the market for wearable payment devices was valued at $19.13 billion, and it's expected to reach $138.05 billion by 2030.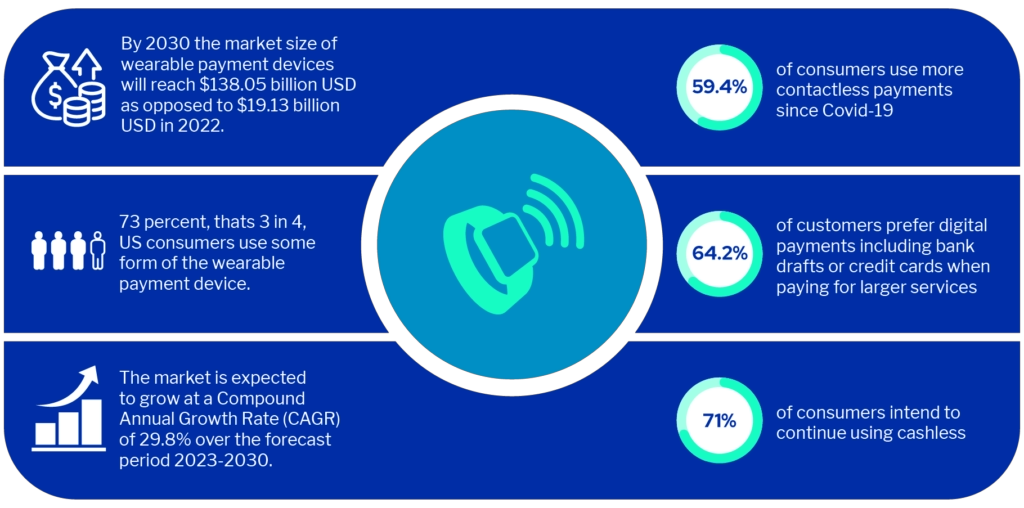 Learning more about mobile payments
Whether the goal is to capitalize on the convenience of wearable payments or make inroads with customers who are devoted to their Apple devices, accepting mobile payments is a sound decision for most SMBs. Although the process of signing up for mobile payment app accounts or installing NFC-enabled POS terminals may seem like a burden, there are ways to minimize the stress and confusion associated with these kinds of payment processing solutions.
The Payment Experts at Sekure have extensive knowledge of different mobile payment methods and how they affect SMBs. They offer professional guidance and support to business leaders who want to offer more convenient, efficient, and cost-effective payment options to customers. SMBs that want to explore Sekure's services can receive a free savings analysis to learn how to reduce their processing costs or request a one-on-one consultation with a certified specialist. Sekure Payment Experts assist SMBs from every industry as they incorporate mobile payment methods into their systems and secure the best merchant credit card processing rates.