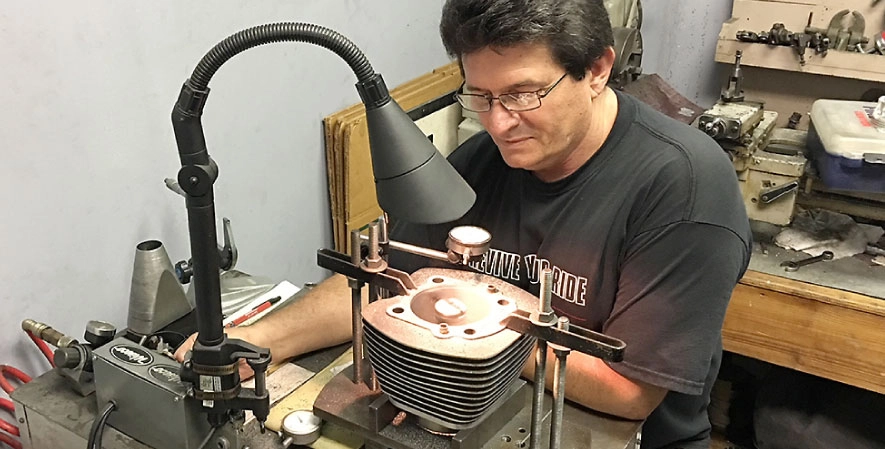 Brian Dady's top priority is keeping his customers happy. As the owner of Motorcycle Clinic, a service, and repair shop located in Kissimmee, Florida, Dady takes pride in his business's reputation for excellent customer service.
The business opened in 1973 and offers engine building, dynamo-meter tuning, suspension services, crash repairs, full custom work, tune-ups, and more.
Dady joined Motorcycle Clinic as an employee shortly after it opened 46 years ago and bought the business in 1984. Customers—who offer rave reviews on the company's Facebook page—come from all over Florida, from Jacksonville to Daytona to Fort Myers.
"People find us because of our reputation, and because when they're researching online, they find that we can solve their problem and we'll do the right thing," Dady says. "I've understood the importance of customer service since early on. What I learned is that I have to put myself in my customers' shoes. I have to look at things from their side of the counter to understand what's going on in their mind."
Valuing customer service is why Dady is a longtime customer of Sekure Payment Experts. For 15 years, Sekure has helped Motorcycle Clinic with payment processing as well as point-of-sale equipment and supplies—always going the extra mile, just as Dady would for one of his customers.
A longtime client of Sekure Payment Experts
In 1973, The Motorcycle Clinic accepted mostly cash. Now Dady can go for several days without seeing dollar bills at the register as he accepts credit, debit, and gift cards. In the future, Dady hopes to work with Sekure to accept Apple Pay, Samsung Pay, and electronic payment methods.
Sekure's relationship with Dady started when Motorcycle Clinic moved to a new location in 2004. Dady noticed an uptick in business and saw that more customers were paying for service and repairs with their credit cards.
Back then, Dady was processing credit card payments through his bank and paying high processing fees. After Sekure Payment Experts contacted Dady, he signed on with the company to switch to a less expensive option.
"Sekure explained how they could save us money on processing," Dady says. "And we were all for it."
Sekure's vision is to completely change the payment processing landscape by using a merchant-first approach that removes the confusion around payment processing.
Sekure has helped Motorcycle Clinic navigate the complicated world of credit card processing and advise through difficult scenarios, such as chargeback fraud. Sekure has also found ways for Dady to lower his credit card processing costs on multiple occasions.
"A couple of times, Sekure has audited our account to lower our processing rate even more. I think last time they did that without us even asking them to do so," Dady says. "The biggest thing is they're about helping merchants save money on fees. It's a customer service thing, and they get it."
#MainStreetUSA Campaign
Sekure is inspired by hardworking American businesses and their communities. In a new social media campaign, the company is shining a light on what makes clients like The Motorcycle Clinic special.
Sekure's team of designers, social media experts, and digital marketers chose The Motorcycle Clinic as the first business to showcase for its #MainStreetUSA Merchant Story campaign. They created a short video to promote The Motorcycle Clinic and posted it on Sekure's Instagram, Facebook, and Twitter with links to Motorcycle Clinic's website and social media accounts—all free of charge to Dady.
The social media campaign shows photos and videos of customers and their motorcycles and ultimately conveys why customers are so important to small businesses.
The total number of people reached was 384,331. Total video impressions were 444,804, and total video views tallied more than 29,000.
"When Sekure Payment Experts approached us to participate in their #MainStreetUSA Merchant Story spotlight, we were pretty excited about it," Dady says. "We have been trusting them with all our merchant processing and couldn't be happier."
At Sekure, our customer's success is our success. We believe in strong communities, and local businesses are a key component of a healthy and vibrant community. By showcasing your business, we're showing why #MainStreetUSA matters.