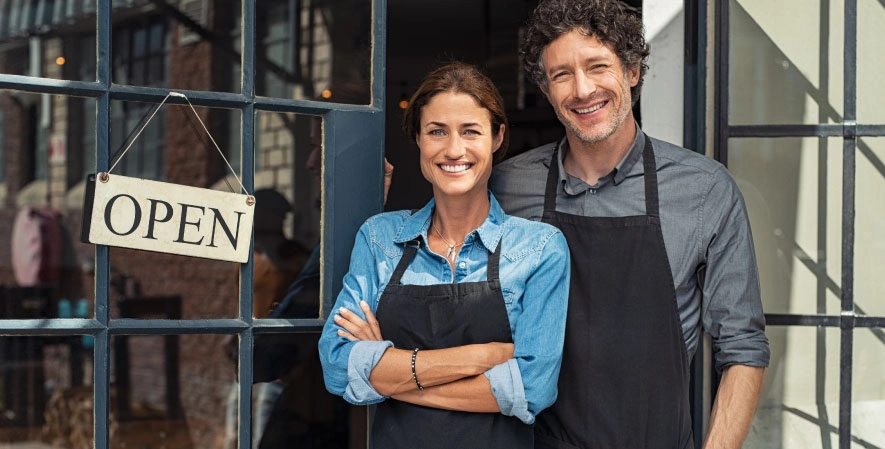 You're a small business owner, so let's assume you like accepting payments and getting paid. This article provides a brief overview of your traditional terminals and POS systems, outlines the pros and cons of each, and helps you decide which might be best suited to grow your business.
One isn't necessarily better than the other, per se—it just depends on factors such as your business, expansion plans, and desired functionalities. A multi-location restaurant won't have the same requirements as a wellness clinic, for example.
Make the right choice without spending hours comparing options
Sekure understands that every business is different. Our team of payment experts matches you with the perfect POS system to suit your business needs at no extra charge.
Traditional Payment Terminals
These are your typical card readers—they are the tried-and-true credit card machines that probably first come to mind when you think about a customer–merchant transaction. They have a chip, magstripe, contactless readers, a number pad, and a receipt printer and accept credit and debit cards.
Although some credit card terminals have additional features beyond simply accepting payment, they lack many of the functionalities served up by POS systems, as discussed below. Some of the leading brands of payment terminals include Square, Verifone, Ingenico, and First Data.
POS Systems
Unlike traditional payment terminals, POS systems provide a much more comprehensive package for merchants and include software, hardware, and a card processor.
While most terminals simply accept payments and provide receipts, POS systems have features to help you analyze sales data, track inventory, connect with customers and manage employee permissions and schedules. There are hundreds of POS systems on the market, so you'll need to do your research.
So, Which One Is Right for My Business?
When considering your options, a lot depends on your business's nature, size, and structure. Here are some things you'll want to consider:
Your industry: Are you in retail, hospitality, health and wellness, service, or something else entirely? Are you strictly online, in person, or omnichannel?
Sales volume: A retail store will process many more transactions than a contractor, for example, while multi- and omnichannel merchants with several store locations will have more significant needs in terms of inventory tracking.
Long-term plans: Do you expect to grow your business? Are you planning to open another location? Are you wanting to incorporate e-commerce into your platform and accept online payments?
Customer experience: Do you want your business loyalty program? Do you want to collect customer data so you can provide customized offers?
But Wait—There's Another Option
A third hybrid option might fit the bill, one that lands somewhere between a terminal and POS system. I'm talking about something like the PayAnywhere Smart Terminal. These sleek wireless terminals have 4G and Wi-Fi connectivity, allowing you to accept payment methods like Apple Pay and Google Pay at the counter, around the retail space, or on the road. On the software side, it accepts online payments and lets you toggle between various interfaces—such as a traditional terminal theme and a retail theme with customized items, stock management, and more.
Another reason you might want to consider a hybrid solution (the Smart Flex is another one worth checking out) is the ease of cleaning—something that is top of mind these days. Instead of buttons, these payment solutions have a glass surface, which makes cleaning and disinfecting hassle-free. So if you're on the fence between a terminal and a POS system, a smart terminal could be the way to go.
Tap and Pay the Safe Way.
Get a free Smart Terminal or Smart POS+ at no cost! Say goodbye to leasing, rental, or shipping fees.
The Bottom Line
With all the options out there, choosing the right payment system for your business can be daunting. If you're unsure about what's best for your business—a traditional terminal, a POS system, or something in between—get in touch with us, and our Payment Experts will help you find the right one for your business.