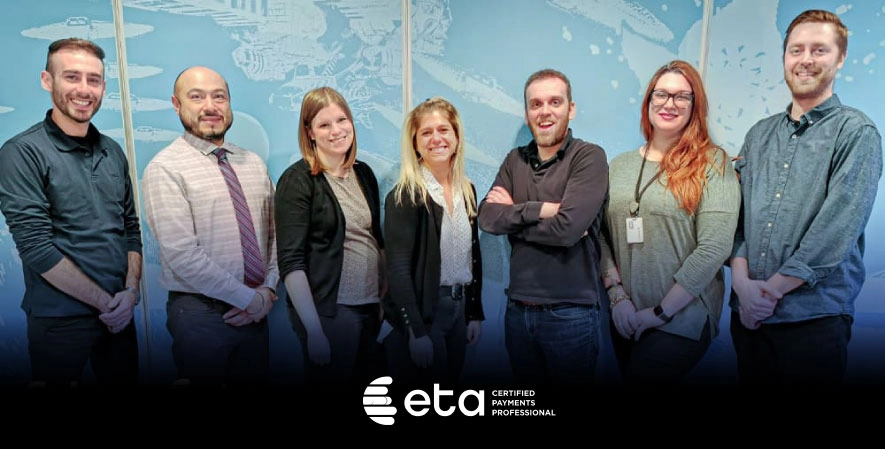 Sekure Payment Experts is taking customer support to the next level with an ETA exam certification initiative that gives employees a competitive edge and ultimately helps merchants navigate the complex electronic payments environment.
The Payment Experts at Sekure are taking the ETA Certified Payments Professional (ETA CPP) exam.
Passing the exam signifies that our Payment Experts have demonstrated the knowledge and skills required to perform proficiently.
Sekure launched the certification exam initiative in 2018. Seven employees were certified in 2019, and eight more took the exam throughout 2020. Now more than ever, payment processing professionals need broad industry knowledge to grasp the challenges faced by merchants. Our Payment Experts continuously improve their professional knowledge and expertise in the most important areas to the merchants they support. Merchants receive peace of mind knowing they are supported by Sekure's team of experts who will provide accurate, up-to-date information for their queries or concern.
Their expert skill sets are vital in allowing Sekure's Relationship Managers to best support merchants in navigating the complexities of risk mitigation, governmental and regulatory compliance, and security matters.
Our ETA-CPP certified Payment Experts have demonstrated fluency in the following areas:
Sales
Pricing
Interchange
Operations
Products
"Merchants can put their trust in our Payment Experts knowing that they're well-versed in PCI compliance topics and other payment processing areas," said Sekure's Director of Customer Support, Laura Lewis. "It's really a matter of merchants having confidence in us, that they're working with a company that's always looking out for them."
What is the ETA CPP Exam Program?
The ETA CPP examination is a three-hour, computer-based exam that is administered in English and includes 125 multiple-choice questions. The ETA CPP is available for all payment processing professionals with a minimum of 1 to 3 years of payments industry experience. The certification is valid for three years.
Objectives of the ETA CPP Exam
Establish a uniform, defined standard of practice and knowledge for ISOs, sales personnel, and other payments industry professionals
Quantify the expertise and potential performance of payments industry professionals
Enhance the productivity and reputation of payments companies and the credibility of the industry
Thwart inappropriate practices that may discredit the reputation of the industry
At Sekure, we've built our reputation in payment processing based on our expertise and exceptional customer service. We're proud to have earned the best third-party reviews in the payment processing industry. The ETA CPP exam reinforces Sekure's commitment to excellent customer service.
"The certification will help merchants know that they're dealing with Payment Experts who are professional and very knowledgeable in the processing industry," Lewis said. "The ETA CPP program sets the standard for professional performance in the payments industry. More than anything, Sekure is committed to excellence."