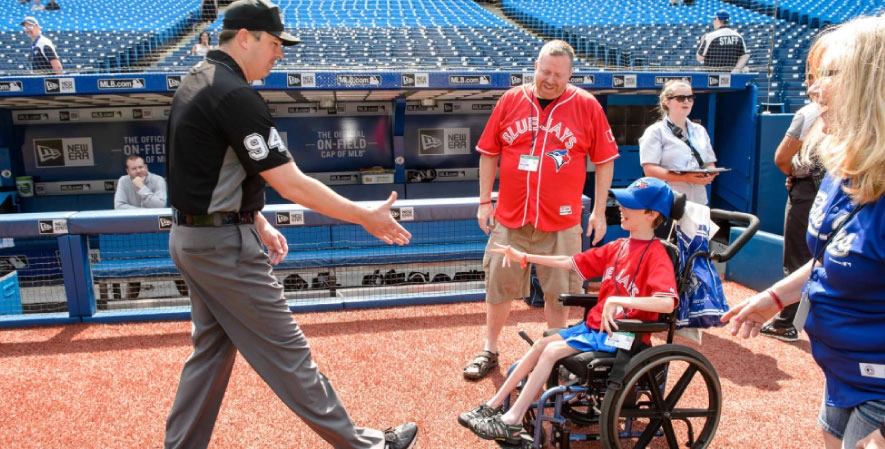 For UMPS Care Charities, helping children in need is an easy call. Sometimes life is more than strikes and home runs – and no one knows this better than they do.
UMPS Care Charities, founded through the compassion of Major League Baseball (MLB) umpires, provides financial, in-kind, and emotional support for youth and families in need.
The Maryland-based organization offers several youth-based initiatives to help children and families—ranging from Build-a-Bear Workshops at children's hospitals to baseball experiences in MLB markets to college scholarships for children who spent their childhood in foster care.
Since 2006, the organization has helped more than 20,000 families. In the first half of 2020, UMPS Care volunteers have already donated 1,204 hours of their time.
UMPS Care partners with about 15 children's hospitals in MLB cities in the United States and Canada each year, delivering Build-a-Bear Workshop stuffed animals and outfits and new UMPS Care activity books, crayons, and baseball items.
It also helps at-risk youth, children battling chronic illness, kids in foster care, and military families in every MLB market across the country to receive a big league baseball experience. In addition, UMPS Care's college scholarship program is designed to support children adopted at or after age 13 with $40,000 to go toward tuition, books, and other college-related expenses.
Praise for Sekure Payment Experts
In 2015, UMPS Care teamed up with Sekure Payment Experts. Initially, UMPS Care needed point-of-sale terminals for off-site events to process credit cards and manage transactions. When UMPS Care launched its online store, which sells t-shirts, hats, and outerwear, Sekure helped make it happen.
"We've been very happy with Sekure's customer service," says Umps Care Executive Director Jenn Skolochenko-Platt. "When we set up the online store and started taking orders, we didn't see deposits. Sekure helped us figure out that we had to go in and manually accept orders. When we had questions, the Sekure team was patient, kind, and understanding."
Skolochenko-Platt says she highly recommends Sekure and gives the company high marks for its community-minded approach to helping local charities and nonprofits.
In December, for example, Sekure's Great Place to Work committee — made up of a handful of dedicated employees — raised $10,000 for the Montreal SPCA, which helps provide a safe haven for stray animals until they are adopted.
Other organizations Sekure has supported over the past two years—through fundraising, food drives, winter clothing drives, and book drives—include Because I am a Girl, Old Brewery Mission, Chez Doris Women's Shelter, Women's Center for Montreal, and On Rock Community Food Bank.
"I love what Sekure is doing out in the community and helping to get the word out about small organizations," Skolochenko-Platt says. "As a nonprofit, we value other organizations who try and make a positive impact."
Client Love and #MainStreetUSA campaigns
Sekure is inspired by compassionate American charities and their communities and likes to shine a light on what makes charities like UMPS Care special. We call this Client Love.
Sekure's team of designers, social media experts, and digital marketers chose UMPS Care to showcase for World Kindness Day as well as our #MainStreetUSA Merchant Story campaign. We created a short video to promote UmpsCare and posted it on Sekure's Instagram, Facebook, and Twitter with links to the UMPS Care website and social media accounts — all free of charge to the organization.
These social media campaigns showed photos and videos of the impact UMPS Care has on young people in need throughout the country by providing major-league support to at-risk youths and critically ill kids, children adopted late in life, and military families. The magic they create on baseball fields and hospitals across the country gives children a reason to cheer.
The total number of people reached by the MainStreet campaign was 41,711. Total video impressions were 45,908, and total video views tallied nearly 13,000. For the World Kindness Day feature, the UMPS Care message reached 15,279 people with 2,602 post reactions. Both campaigns pointed to the organization's donation page, where inspired visitors could chip in to help them cover the bases.
In these challenging times, Sekure is inspired by the resilience of charities and small businesses that work so hard to make the world a better place. Each of our merchants has a unique light to shine, and it's our honor to tell their #merchantstories.
We believe in strong communities, and local businesses and charities are a key component of a healthy and vibrant community. By showcasing your business, we're showing why #MainStreetUSA matters. Learn more about Sekure's #MainStreetUSA merchant stories.