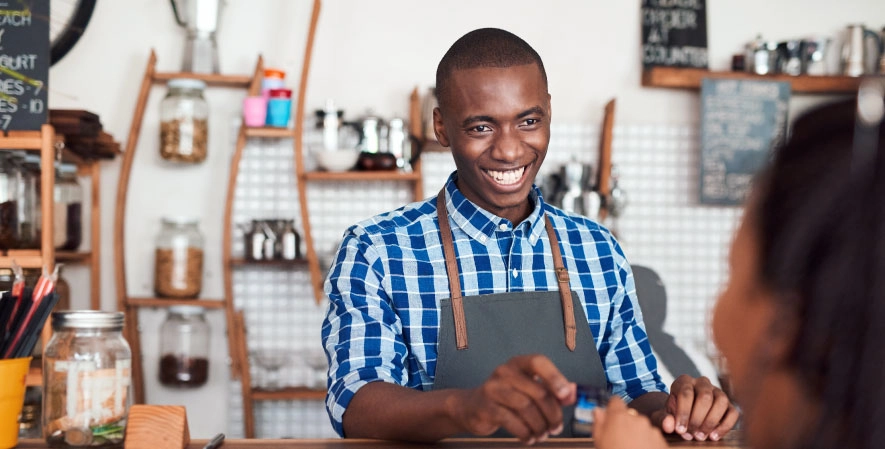 You're finally back in business and ready to welcome shoppers again. Now comes the tricky part: how do you encourage customers to return to your store? While it may sound obvious, it's important to remember that communication is key.
Communicate to customers
Your customers or potential customers may not even know that you're back in business, so once your reopening plans are in place, complete with health and safety protocols, you'll need to share this information far and wide.
Consider posting signage outside and inside your store, communicating to customers by email or SMS, and posting updates on your social media channels. Remember to modify your business's listings online in order to keep your customers updated on your opening and closing hours. Google Maps and Yelp allows you to add specific information about your store's COVID-19 policies.
Keep safety top of mind
Make sure customers know that you take safety measures—and their health—seriously. Place signage about social distancing, mask requirements, and store capacity limits in visible locations. Be sure to offer complimentary face masks to customers who enter the store without one, and place a bottle of hand sanitizer at the store's entrance and exit.
Another safety measure could be to prioritize clientele who are vulnerable to COVID-19 earlier in the day, if this is doable for your business.
Entice customers through promotions
Once you're open, an effective way to get customers into your store is by offering specials and promotions. Try a "buy one, get one free" special to move inventory, or a "spend $100 and get a free gift" promotion to increase ticket sizes. Figuring out the right offer will ultimately depend on your sales objectives.
In order to assist you, consider using a cloud-based POS system and retail management software tool such as Vend. The benefit of using such a system is that your job becomes much easier – instead of manually entering information, you can automatically create promotions, discounts and sales and track their performance.
Let customers know what you have in stock
By using Vend's Marsello, you can encourage customers to return to your store by sending them personalized product recommendations based on their past purchasing history. This tool allows you to compile specific information about your customer's buying behavior so you can send them targeted recommendations the appeal to their interests..
Don't forget about customers who still prefer to shop online
Not everyone is ready to venture out in brick-and-mortar stores yet; many still prefer to shop online. That being said, keep your website optimized for searches by publishing locally-relevant content, obtaining high-quality links, and optimizing your site's headers, images, and meta-descriptions.
To make it easier to sell both online and offline, connect your POS system to your eCommerce store. As a result, you'll be better organized: your inventory, sales, and customer data will be synced meaning that you can manage sales, orders and customer relations from one place, without getting confused.
Find out how Sekure's Payment Expert can help you to improve sales and reach your business objectives by contacting us today!