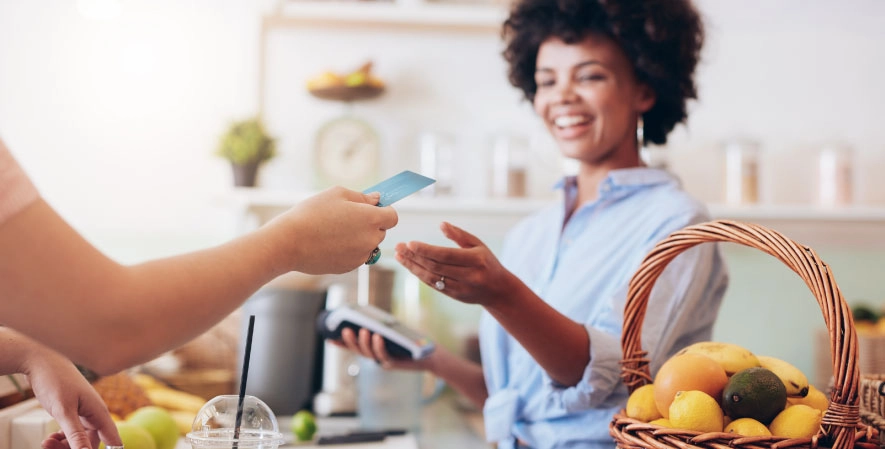 Simple solutions for First Data troubleshooting
First Data Merchant Services—which now operates as Fiserv Merchant Services—is a familiar provider of payment terminals and one of the largest payment processors in the world. Point-of-sale terminals such as the First Data FD130 have been around for ages and allow merchants to accept major credit cards, contactless payments, and gift cards. Newer models such as the First Data FD150 build on the FD130 and feature a faster processor and more memory. Explore the First Data payment processing comparison to evaluate your payment options
If your business is running the FD130 or FD150, or any other First Data processor for that matter, you've likely had to troubleshoot some technical issues. In this article, we review some of the most common First Data troubleshooting tips.
Chip read failed
If a customer attempts to pay with a chip card and this error is displayed, try the following:
Retry the card.
Check to ensure there is no debris or dust in the chip reader.
Reset the terminal and pin pad by turning them off and on (Note: Ensure the terminal is turned off when you disconnect and reconnect the pin pad).
Try a different card since it might be a specific card that's not working.
If these don't resolve the issue, remember that you can always key in the card number manually.
Card type not supported
Depending on the specific First Data credit card machine you're using, this error might read something like "Card Not Supported." Here's what to do:
Try the credit or debit card again. If tapping, swiping, or dipping the card doesn't work the second time, enter the card number manually.
If you're still getting the error message, ask the customer if they can use another form of payment.
Note: This error usually occurs when your terminal isn't set up to accept a specific card. An issue with the customer's card itself is another common culprit.
Out of paper
If you miss the end-of-roll warning stripe and run clean out of paper, you'll get an "Out of Paper" message. How to rectify the problem:
Check the printer for receipt paper, and replace the roll.
Remove the existing roll and reload it into the printer. If the error message continues to be displayed, you can unplug the cord that connects your printer and terminal plug it back in.
Line busy/waiting/not connected
Connectivity issues with the POS terminal are another common technical issue encountered by merchants. If your terminal is connected via a phone line, try these steps.
First, ensure that the phone line is connected. If it is, try unplugging the existing phone line and replacing it, or plug it into another jack.
Check to make sure there is a dial tone. If not, get in touch with your provider and have them identify the problem.
Ensure the phone line is not in use.
Errors that require the help desk
Simple troubleshooting cannot resolve some issues and require you to contact the help desk directly. A couple of errors that fall under this category include the following:
Host Error 50/51
Security Alert ETP Tampered
In closing
If you're unable to troubleshoot with these tips, your best course of action is to contact First Data directly. Indeed, many errors require you to contact the help desk directly.
If you've been having ongoing problems and spending more time troubleshooting than swiping and tapping your customers' cards, consider upgrading your POS equipment today. Drop us a line —one of Sekure's Payment Experts will be happy to help you find the best solution for your business.